Basic Instructions for Students
Welcome to LevelUp Reader! Here, you'll find everything you need to know to log in and get started.
LevelUp Reader is a platform designed to help students like you practice your reading comprehension skills. Every time you log in to LevelUp Reader, you will be taken to a personalized bookshelf full of books that have been chosen for a reader of your level, so pick one that looks good to you and click to get started!
Practice reading books on your own, or follow along as they are read aloud. Take comprehension quizzes to earn stars. As you read more books and take more quizzes, you will earn more stars that can be used in LevelUp Land.
Are you ready to get started? The first thing to do is log in!
Your teacher will give you everything you need to log in to LevelUp Reader for the first time.
There are a few different ways to log in to LevelUp Reader:
If you were given a username and password, enter them on the login page, then click Log In.
If you were given a badge, make sure the camera on your device is turned on, then use it to take a picture of your badge.
If your school uses Edlink, click the purple Log In with Edlink button and enter your email address and Edlink password to log in to LevelUp Reader.
If you're not sure which way to log in, ask your teacher.
LevelUp Reader Assessment
The first time you log in to LevelUp Reader, you will see a picture of an owl saying, "It's Time to Level Up!"
Click Let's Go to see an illustration, a sentence, or a paragraph of text and be asked to answer questions about them. This is your intake assessment. Your answers to the questions will show your teacher how much you already know about reading and determine which books are displayed on your bookshelf.
Answering these questions will show your teacher what level of books you should start reading. The questions may get harder as you get further into the assessment, but stick with it! When you finish answering all of the questions, you are awarded 25 stars to use in the LevelUp Land game.
In addition to the stars, you will be given a Lexile number. This number shows how much you already know about reading, and it will help your teacher decide what kind of books to focus on as you begin to explore LevelUp Reader. You might notice that your Lexile number changes as you read more books and take more quizzes. This shows that you're learning more about reading!
When you've finished the intake assessment and received your LevelUp Land stars and Lexile number, click OK to go to your personalized bookshelf.
Using Your Personalized Bookshelf
The personalized bookshelf is your LevelUp Reader homepage. From now on, every time you log in to LevelUp Reader you are taken to this page.
Your bookshelf is filled with many small pictures that show the covers of the books that have been chosen for your reading level. The text underneath each picture tells you the name of the book, what its reading level is, and whether it is fiction or nonfiction. Use this information to decide which book you'd like to read, and click the cover image to open it and start reading.
There are over 2,400 books on LevelUp Reader, but don't feel overwhelmed. The books on your bookshelf have been sorted into different categories, such as "Arts and Crafts," "Science," "Sports and Fun," "Civics and My Community," and others to help you find one that you want to read.
Your teacher might also assign a book for you to read or a running record assessment to take. You can find that book or assessment on the row labeled "My Assignments." If you start to read a book but don't finish it, or if you leave a book before taking the quiz at the end, the book will be moved to the row called "Continue Reading." You'll be able to find it there next time you log in to LevelUp Reader. Running records must be completed once you start them, so they will not appear in "Continue Reading."
If you really like a book, or if you think you might want to read it again sometime, click the heart that appears beneath it to save it to your favorites. At the top of the bookshelf, just under the LevelUp Reader logo, you will see an icon labeled My Favorites. Click this icon to open a page where all of the books you've chosen as favorites appear. If you change your mind and want to remove a book from your favorites, just click the heart again and it will no longer be on the page.
Click the icon labeled Bookshelf next to My Favorites to go back to your main bookshelf.
Next to Bookshelf and My Favorites is an icon labeled My Reports. If you want to know more about your LevelUp Reader activity, click this icon to open a page that shows your current reading level, how many books you've read this week, how many books you've read in the entire time you've spent on LevelUp Reader, and how many LevelUp Reader Land stars you've earned.
To read a book on your bookshelf, click its cover image. The book opens with arrow buttons on its left and right and play controls underneath.
If you'd like to read the book by yourself, use the arrow buttons to turn its pages. If you'd like to have the book read to you, press the play button and follow along with the highlighting as the words are read aloud. Use the volume controls to the left of the play button to control the loudness of the narration.
If you'd like to zoom in on the page to see something closer, click the magnifying glass to the right of the play button, then click anywhere on the page. When you click the magnifying glass again, the book returns to its normal size.
Use the menu that opens when you click the three lines in the upper left-hand corner of the screen to return to your bookshelf or add the book to your favorites.
When you get to the end of the book, click the right-arrow button to close it, then click Finish Book on the next screen to collect your LevelUp Land stars! You get five stars every time you finish a book. Stars are used to buy characters and objects in LevelUp Land.
Click Continue on the next screen to take a short comprehension quiz and earn even more stars.
Comprehension quizzes are usually between five and ten questions. Some questions ask you to type a short answer into a blank text box, but most are multiple choice. Read the question to yourself and click the answer that you think fits best.
The words in the questions may be long or hard to read. If you'd like to have the question read to you, click the audio icon next to it to hear it read aloud. When you've finished answering a question, click the right arrow to move on to the next question. If you need to go back and change an answer, click the left arrow or a numbered tab along the top of the quiz card to return to the earlier question.
At the end of the quiz, you are told how many questions you answered correctly and how many stars you earned. Scroll down to see the answers to the questions. Correct answers appear in green, and incorrect ones appear in red. Scroll back up and click Continue to return to your bookshelf.
Taking a Running Record Assessment
Running record assessments are short text passages that you read aloud and record. When your teacher assigns a running record assessment, it shows up in the "My Assignments" row of your bookshelf. Once you finish reading the running record, the recording you made is automatically sent to your teacher to grade and you're awarded 25 points to use in LevelUp Land.
To start a running record, click its cover under "My Assignments" (all running records have the talking-head icon on their covers.
A window opens to prepare you to start recording.
If you're ready to record yourself reading the text passage, click Let's Go. If you need more time to prepare, click Go back to the bookshelf.
When you click Let's Go, the text passage appears. Scroll down and familiarize yourself with the text to know what to expect when you begin reading. When you're ready to start recording, click RECORD at the top of the window.
A window appears asking you to let LevelUp Reader use your device's microphone (this window may look different depending on your device and browser.
Click Allow
If the window below opens instead, your browser settings may need to be changed so LevelUp can access the microphone on your device.
Ask your teacher or a parent for help to enable your microphone in the browser.
The running record opens
Read the text as best as you can, taking as much time as you need and speaking loudly enough for your device's microphone to record you clearly. Don't feel bad if you make mistakes—everyone does. Just correct yourself as you go if you need to, and remember that running records are meant to assess reading accuracy, not speed.
When you finish reading, click I'm Done.
A final window appears to confirm that you've finished the assessment and have earned 25 game points. The running record passage also appears in this window, and you have the option of listening to your recording.
To hear your recording, click Listen to your recording above the passage. A waveform, or visual representation of your recording, appears.
Use the play/pause button to hear what you recorded. You can click and drag the handle at the start of the waveform to go to any part of the recording.
Click OK when you're finished to return to your bookshelf. Your completed running record is immediately sent to your teacher, who will grade it and schedule time to meet with you to go over any words you may have had trouble with. Congratulations!
Click the LevelUp Land icon above your bookshelf to play the LevelUp Land game. When the game loads, you will find yourself in the middle of an empty town-square scene. Click and hold the controls in the lower-left corner, or use your keyboard's arrow keys, to move around in the scene. Click and hold anywhere on the scene to change your perspective.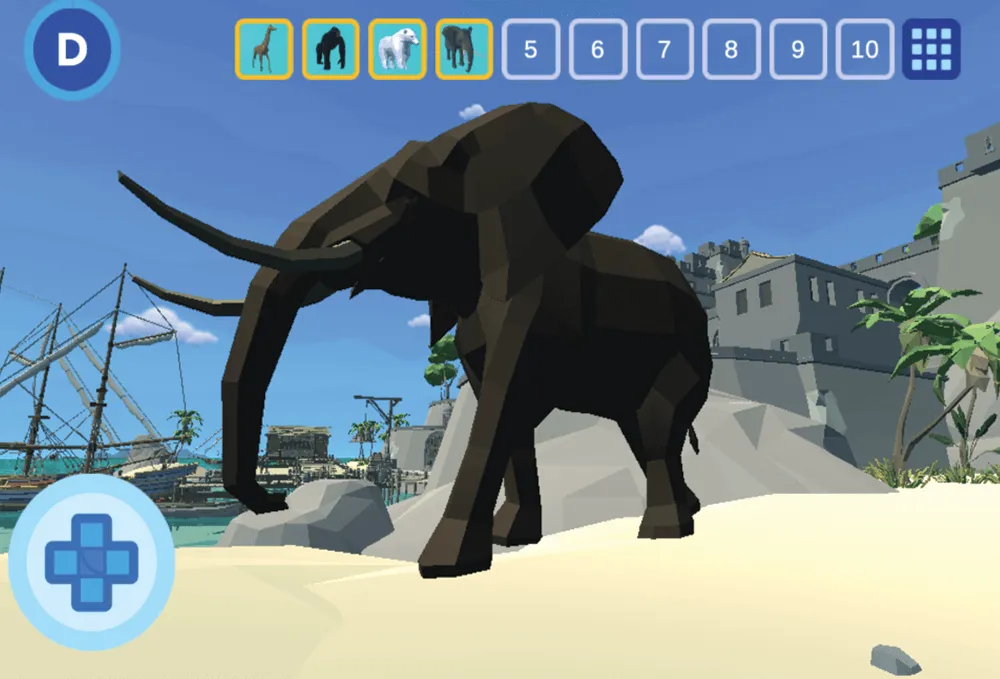 Buying Characters and Objects
You can open the LevelUp Land store by clicking the icon in the upper-right corner of the scene. The store is filled with different animals, vehicles, and objects that you can purchase with the stars you've earned from reading books and taking quizzes. Most of the items in the store cost between 10 and 80 stars, but some are more expensive.
To place an item you've purchased in the game, exit the store and click the item in the numbered menu that appears along the top of the scene. Next, click in the scene where you want the item to appear. Use the controls that appear beneath the object to resize, reposition, or delete it from the scene.
Changing Scenes
If you'd like to change scenes in LevelUp Land, click the icon of your initial in the upper-left corner of the scene and select Change Scene from the menu that appears. Click a new scene in the window that opens, then click the green checkmark that appears to unlock it. (Scenes you've already unlocked are ready to use, and don't need to be unlocked again.) Once you've unlocked a scene, click Go to open it.
LevelUp Land unlocking a scene
Most teachers allow you to spend only 10 minutes at a time in LevelUp Land. The same menu you use to change scenes shows you how much time you have left to play. You can also click Game Controls in this menu to see a list of available keyboard and mouse commands. Click Full Screen in the menu to make the game the size of your device's entire screen.
Closing the Game
Every time you come back to LevelUp Land after a session ends it looks the way you left it, so there's no need to save before closing! If you want to return to your bookshelf at any time during play, just click the bookshelf icon above your LevelUp Land scene.