A Customized Digital Library for Every Student


PreK-3 Foundational Literacy
Rosen Publishing's LevelUp Reader is a robust adaptive reading platform that brings educators and students to one engaging resource to foster students' literacy growth. Supporting small group and whole class instruction as well as individualized practice, LevelUp Reader provides a personalized experience for every student!
Level up your student's reading experience with our personalized and adaptive foundational literacy platform. The key to teaching a child to read is individualized instruction.
LevelUp Reader empowers educators with the knowledge to provide a custom experience for each individual student or to differentiate instruction for groups of children within their classroom. LevelUp Reader is a great classroom support tool and a great student self-guided reading tool.
For more information about Rosen's LevelUp Reader, please view the video.
Reach Students
with Remote Learning
LevelUp Reader seamlessly integrates digital instruction with real-world practice. It offers students both interactive online and printable activities to facilitate learning and encourage independent literacy growth. LevelUp Reader is simple for kids, parents, and caregivers to use and even offers extra accessible tools for keeping readers engaged.
Digital Library of Over 2,400 Books
The LevelUp Reader library includes:
Authentic fiction and nonfiction
650+ Spanish and bilingual texts
Actor narration to model fluency
Engaging interactive phonics activities
Adaptive personal libraries on interest and reading levels
Engaging decodable books
State-of-the-Art
Interactive Phonics Resource
LevelUp Reader follows a complete scope and sequence of phonics skills, including units on emergent letter-sound correspondence, multisyllabic words, and more—all using 3D animation! The 250+ printable activities and writing practice sheets ensure mastery of these foundational skills.
From Learning to Read
to Reading to Learn
Students have easy access to books at just the right reading level through their unique, personalized bookshelf. Teachers can assess comprehension of the text via quizzes and track students' mastery of skills and state standards.
Teachers, reading coaches, and reading specialists can customize each experience for the individual students' needs. The LevelUp Reader platform adapts to the skills and abilities of each student.
Easy Reporting and Evaluation
LevelUp Reader incorporates low-stakes progress monitoring assessments and provides intuitive reporting for analysis. By incorporating the Lexile® Framework for Reading, students can meet standard grade and age level benchmarks. Educators have access to online or downloadable reporting at a glance, plus the ability to drill down to over 100 data points at the district, school, class, and student levels.
Engaging Student Gaming Environment
LevelUp Land's gaming environment maximizes student engagement without distracting from learning goals. Learners will be able to freely play and wander through an immersive 3D environment similar to today's most popular gaming platforms.
Level up your student's education through fun, interactive experiences that encourage learning and engagement.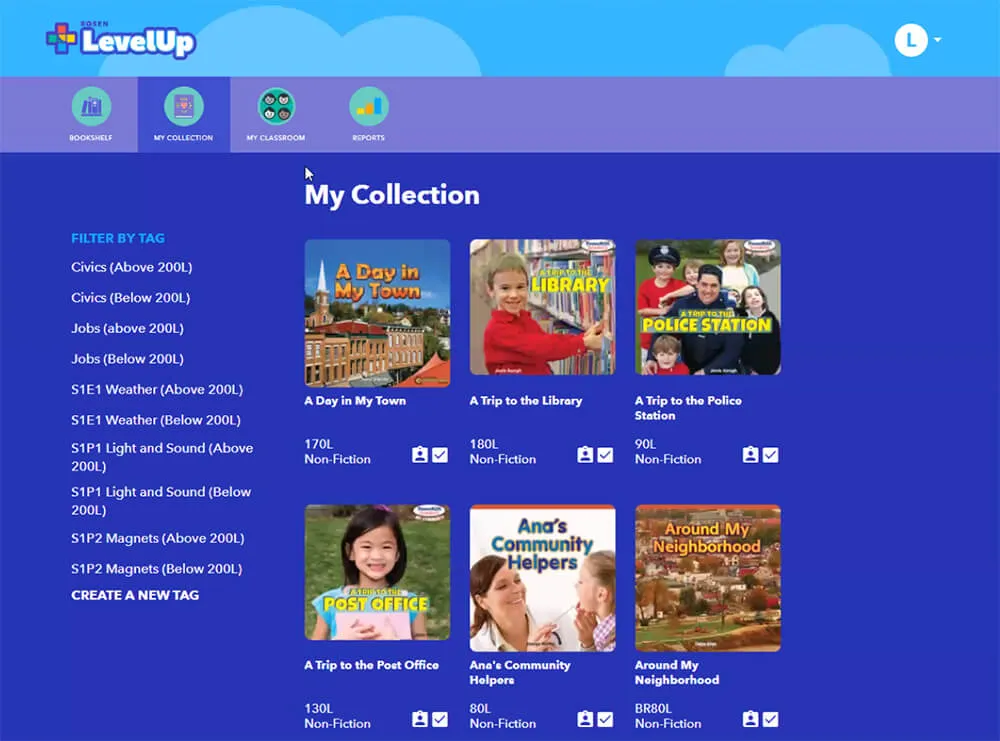 Find Titles Correlated to
Your ELA Standards
LevelUp Reader recognizes your specific state's ELA correlations. It removes the stress of aligning bookshelves and allows you to teach to students' individual needs. It's quick and easy to integrate LevelUp Reader into existing lesson plans.
Teachers can filter over 2,400 authentic texts to find those that tie to a particular standard in their state and enrich their instruction.
Sign up now for your free trial to discover what makes LevelUp Reader the premier adaptive reading platform that encourages literacy growth for students and empowers teachers to succeed.